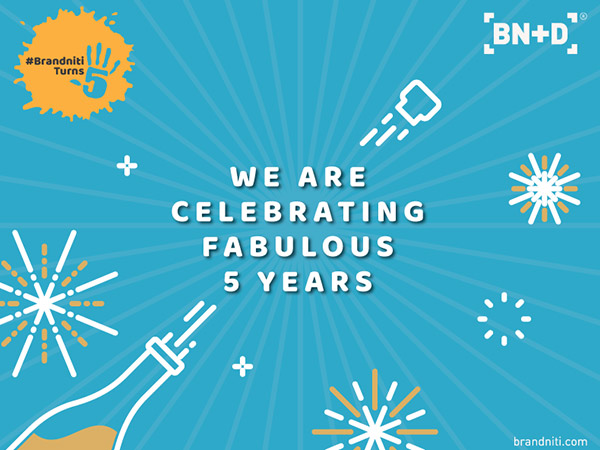 5 glorious years - Promises kept, lessons learnt... A long way to go!
On February 2nd 2017 we celebrated our company's 5th anniversary, a milestone we are very proud of.
Ours is a humble yet inspiring story which began with two founder members Haresh Motirale & Smita Thorat five years back. The struggles were real but so were the dreams. Both partners came with a rich bouquet of experiences and knowledge of Marketing, Digital Media, Strategic consultancy and real estate. The team kept growing and so did the clientele. Our team is a perfect mix of seasoned professionals with backgrounds of multinational agencies, real estate giants etc. and bandwagon of young enthusiasts. Our client base consists of everything from local one-man bands to international companies and our services range from Creative consultancy, Digital Marketing, PR solutions to Render services.
We have a modern office in Mumbai, where we collectively deliver winning campaigns for our clients. Yes, there have been lows along with the highs but so far everything has fallen nicely into the place and the tough times have taught us valuable lessons about business.
We couldn't let this milestone pass without making our team and our valuable clients a part of it. We wanted to do that extra bit and go that extra mile for each one of our clients and the numerous people we have met in these five years. If you are a brand or you want to become one, there will be no better time for you because as part of our month long celebration we are providing additional services, specially designed value-adds, special proposals and more. It's a gesture of we becoming bigger and better with time.
Once again, many thanks to all of our people, clients, business partners and friends who made it along for the journey, without you we would not be where we are today.